Behold, the LORD has proclaimed to the end of the earth: Say to the daughter of Zion, "Behold, your salvation comes; behold, his reward is with him, and his recompense before him" (Isaiah 62:11 RSV).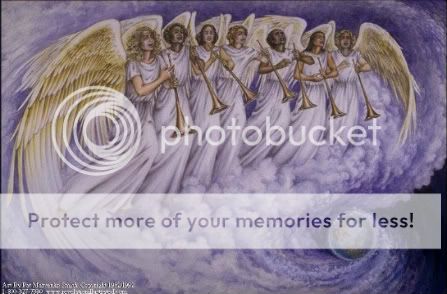 But the angel said to them, "Do not be afraid; for behold, I bring you good news of great joy which will be for all the people; for today in the city of David there has been born for you a Savior, who is Christ the Lord. This will be a sign for you: you will find a baby wrapped in cloths and lying in a manger" (Luke 2:10-12 NASB).
The shepherds are the "them" in this passage from Luke. I would want reassurance if I looked up and saw a host of angels, too! They were the first to hear the good news! The shepherds in the field were told before any others! Of course, Jesus was descended from shepherds so it somehow seems fitting. Knowing what we know now about Jesus and his life and message, it's not surprising his life and mission on earth would begin surrounded by the least and the lowliest.
These shepherds would have been very familiar with the verse from Isaiah, too. In some accounts they left their sheep and ran – ran – to find the baby in the manger. Shepherds never left their sheep unguarded—never. But then there were the angels . . . and of course the thousands of years of waiting for the Savior promised them in Isaiah . . .
What is the message for us today? The baby has been born. He's already lived and died and risen into heaven. So what is the message for us today? The message is exactly the same! Behold! We still have the good news, but ours is even better than what the shepherds heard that night 2000 years ago!
"Do not let your hearts be troubled. Trust in God; trust also in me. In my Father's house are many rooms; if it were not so, I would have told you. I am going there to prepare a place for you. And if I go and prepare a place for you, I will come back and take you to be with me that you also may be where I am" (John 14:1-3 NIV).
Behold, Christ has prepared a place for us! That is the real reason we celebrate Christmas—not only to remember the birth of God made man, but to recall the promise of the man/God on the Cross. "Do not let your hearts be troubled." Sort of sounds like, "Do not be afraid." Do not let your hearts be troubled. The risen Christ waits in heaven for you. He has a special place for you, right next to Him.
Nothing on this earth can change that truth. Do not let your heart be troubled.
My prayer today is that you rest in the assurance that Christ has prepared a place for you in heaven. And that you will not allow your heart to be troubled while you wait for Christ's coming.
Blessings on your journey,
Mary