My latest
God's Wonder Woman
column is posted at Take Root and Write! This month I have focused on self-care and self-acceptance. The latest post,
What's In A Name
? explores how the many names of God help us identify more intimately with Him. Also, to remind us that He is a personal God, ready and able to be our strength in any situation or circumstance.

I encourage you to stop by to read both posts at the site. My July 1 post is entitled, Redefining That To Do List. My prayer is that you will be blessed by these posts and that you will take some time to focus on yourself and your spiritual needs so you can care for the others in your life.


Go Here to Sign Up to Receive the Take Root and Write Magazine in your inbox once a week.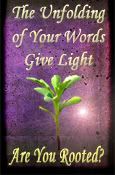 Bessings on your journey,
Mary